Considering becoming an apprentice but unsure what to expect? Wondering what life is like as an apprentice? Want to know where an apprenticeship can take you?
With insights from some of our current apprentices, we've picked four top reasons why you should become an apprentice. Read on for our handy guide to your future as a Bellway apprentice.

#1 Gain more than just a qualification
Apprenticeships are a fantastic way to learn while you earn and gain skills that you wouldn't acquire from teaching alone. You will benefit from learning through a college or training provider, which will lead to a nationally recognised qualification. What's more, the great thing about doing an apprenticeship with us is that you will be able to apply your skills in real-world settings, all in a safe, inclusive, and structured environment dedicated to training you to the highest Bellway standards.

Our apprenticeship programmes typically take the form of classroom-based learning, either in person or virtually, with practical on-the-job training to apply the skills you have learned. The programme is also supplemented with workshops to boost your employability and personal skills.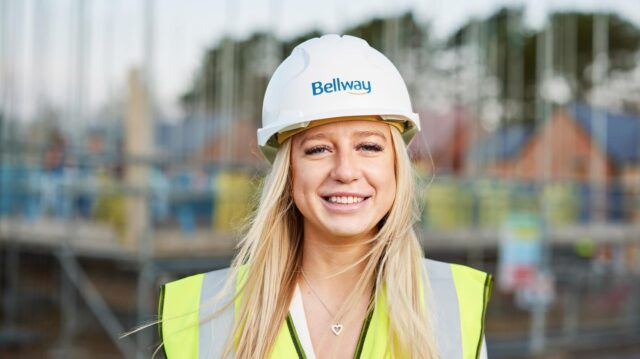 Name: Louise Atkin
Job Title: Apprentice Quantity Surveyor
Division: North East
"To be honest, attending university full-time was never for me. I first started out doing a week of work experience at a housebuilding company when I was 16. I did a day in each department. Prior to this, I told myself I never wanted to work in construction; however, after my work experience, I loved it.""I then went to Bellway for a week of work experience when I was 17 and spent the majority of my time with the quantity surveyors. I was sold on the job after this and joined Bellway a year later when I was 18, and I've never looked back."
"I was attracted to an apprenticeship because I could work while getting a degree, earn a salary, and also get my university fees all paid for me. I saw it as a win-win situation. An apprenticeship gives you a head start in your chosen career."
"My apprenticeship is a Chartered Quantity Surveying Degree Apprenticeship. The course covers five years, during which I attend university one day a week to obtain my degree, and I work in the office and out on site on the other four days. If all goes well, at the end of my apprenticeship scheme, I will qualify as a chartered quantity surveyor."
"My first valuation meeting was a huge step for me in my career. As a quantity surveyor presenting the costs of the site is a major part of your job, and to have completed this on my own was so rewarding. I have to say that what I like most about working with my team is that there is always someone there to offer support whenever I need it. They appreciate that when you start as an apprentice, you go into the job blind, so no question is ever a stupid question."
#2 Build a career based on practical skills (with no student debt)
One of the best things about becoming an apprentice is that you will get paid to learn. That means no student debt hanging over you when you qualify (which currently averages £45,000)!
As an apprentice at Bellway, you will benefit from paid employment with holiday leave, just like the rest of our team. You will have the opportunity to work on lots of different projects and learn from the best in the business.
Not only will you complete your apprenticeship with a qualification and a strong, practical skill set, but you will also have a professional network and relevant experience in your chosen career, boosting your career prospects and building yourself a reputation within the industry.
Name: Joe Rogers
Job Title: Apprentice Engineer
Division: North East
"I joined Bellway in September 2022 based at the company's North East office. I attend college once a week on a day-release basis at Durham College, and I spend the remainder of my time working between the office and on-site."
"I have dyslexia, and the application process I underwent at Bellway was much better than those at other companies offering apprentice roles at the same time. The initial part of the application process was a telephone interview, which is a good start as being able to chat suits me."
"When Bellway found out I have dyslexia, they were understanding of the situation and gave me a time extension for the assessment. My advice to anyone going through this process is that if you have any doubts, then tell Bellway, as they will help you through the process in a bid to get the best out of you."
"I'd always had a passion for maths and civil engineering, and problem-solving, so I started researching the apprenticeship route and applied to various companies."
"I was attracted to Bellway because of the size of the company. I like working for a big company that offers job security and development. My apprenticeship provides the chance for career progression as I can complete a full level 5 course and go on to study for a chartership."
"Bellway has given me a mentor who helps me review my progress and shares their own valuable experiences of completing an apprenticeship previously. In addition to this, there is an apprenticeship support team at head office which monitors my progress and can offer help and support when needed."
"My role sees me working both on-site and in the office. Being out on a site gives me the opportunity to experience and learn about so many different areas and see a project through from start to finish. My work can include dealing with drawings, potential land issues, attending meetings concerning site development, and learning how to plot co-ordinates and use equipment and instruments correctly. This apprenticeship programme has opened the door to a career as an engineer without my needing to go to university."
"I am delighted to be starting my career at Bellway because it is a well-known, family-run firm which has ambitious plans for the future."
#3 Benefit from unrivalled support
Here at Bellway, we like to promote from within, and so we ensure that we provide our apprentices with the necessary skills for success.

Our apprenticeship programmes are designed to attract and develop a diverse range of talented individuals who will contribute to the continued growth and success of our business. Not only will you learn about your chosen specialism, but you will also acquire valuable skills such as leadership and communication, all while developing in line with the standards required for a 5-star house builder.
Support is one of the things we pride ourselves on. We offer a range of delivery methods, from college days and assessors delivering sessions in the workplace, to running skills workshops which will allow you to develop transferable skills and network with your peers. As an apprentice, you will also be assigned a mentor to support your progress.
The Bellway induction process is designed to help you get accommodated as quickly and easily as possible. You will undergo a full induction to meet your manager and mentor and get settled into Bellway life with your peers. Full on-the-job training and onboarding are provided, as well as workshops focused on communication, self-management, leadership and life skills. We also like to mark the end of the programme with an event so that you can celebrate with your team and your peers!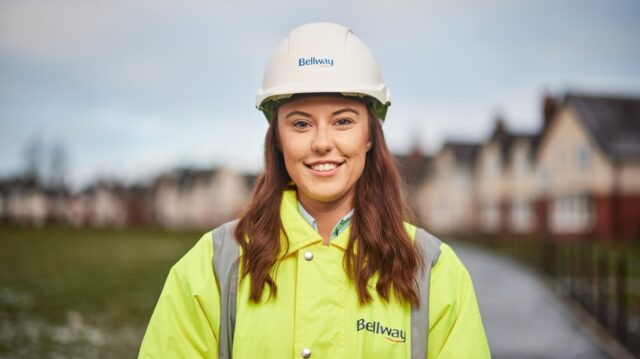 Name: Ellie Reay
Job Title: Customer Care Coordinator (Aug-Dec 2022) Assistant Site Manager (from Dec 2022)
Division: North East
"I applied for a job at Bellway because I always wanted to work for one of the top construction companies in the North East. I started in the construction industry with an apprenticeship in business administration in September 2013. I was later promoted to a role in customer care, and my career progressed from there."
"When I applied to Bellway, I found its application process smooth and not too daunting. I had really good communication from my manager throughout the process, making it efficient, transparent and honest."
"My advice to anyone else going through this procedure is to trust the process and don't be afraid to ask questions."
"My role is fast-paced and varied, and you need to be well-organised and able to communicate clearly and be able to prioritise. I bring a particular insight to my role because I have bought a new-build house myself, so I can empathise with our customers."
"I'm always communicating with contractors regarding build progress and making sure we have all the right materials to achieve planned move-in dates. I am also in constant contact with customers to make sure their house-buying experience with us is as good as it can be. I love working for Bellway, and this has seen me gain promotion within three months of joining the company. What I love most about the job is that I can be myself yet also be part of a fabulous team who communicate well and are all friendly."
"Bellway is a great company with an ethos that creates a caring and exciting working environment where hard work is rewarded."
#4 Step into a world of opportunity
Our apprentices are the lifeblood of our company. 88% of apprentices who completed their apprenticeship programme in 2022 are continuing their career with Bellway. You will be given every opportunity to grow and develop the skills necessary to carve the career that you choose with us. Site-based colleagues can move on to Assistant Site Manager, then Site Manager roles, or work with sub-contractors. Other apprentices will progress in their chosen discipline, stepping up to senior, management and potentially director roles. Bellway is proudly a Gold member of the 5% club for the second year in a row, meaning we are dedicated to creating earn-and-learn opportunities for apprentices and graduates across the country. In addition, we are a Top 100 employer for apprenticeships.
Here are our apprenticeship programmes at a glance:
Construction & Trades
Bricklaying
Carpentry & Joinery
Plumbing & Heating
Trainee Assistant Site Management
Technical & Commercial
Quantity Surveying
Engineering
Buying
Architectural
Business & Finance
Business Administration
Assistant Accountancy (AAT)
Customer Care
Sales
Start building your career with Bellway
Bellway are always on the lookout for enthusiastic and motivated individuals. We recruit team players with a commitment to diversity and inclusion; we are dedicated to giving everyone the same opportunity to thrive in our company.
Apprenticeships are one of the best ways to carve out a practical and rewarding career. When you become part of the Bellway team, you are more than just an employee. You are part of our future, and we will give you the tools for success - quite literally! We offer a range of apprenticeship programmes across L2/L3/L4 and degree L5/L6 across Business & Finance, Technical & Commercial and Construction and Trade.
Find out more about the courses on offer and the application process here.
Bellway Careers
Build the future with us
Apply now