As a company, we're very proud of the accolades we have received so far, but we're always striving for better.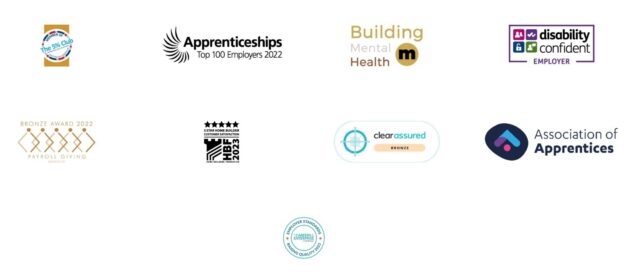 5% Club
The 5% Club is a dynamic movement of employer members working to create a shared prosperity across the UK by driving 'earn and learn' skills training opportunities. We are proud to be a Gold Member, employing apprentices, graduates, and trainees in a variety of roles across our business.
Top 100 Apprenticeship Employer
The Top 100 Apprenticeship Employers rankings celebrate 100 of the country's most outstanding apprenticeship employers.
Building Mental Health

The Building Mental Health Charter is a way for construction organisations like Bellway, to demonstrate their commitment to promoting awareness and understanding of mental health, lowering stigma, and supporting employees. We deliver awareness training to employees, and we are actively increasing the number of Mental Health First Aid Advocates.
Disability Confident
The Government's Disability Confident Scheme supports employers to make the most of the talents disabled people can bring to the workplace. As a Disability Confident Employer we have undertaken and successfully completed the Disability Confident self-assessment and are taking all of the core actions to be a Disability Confident employer which includes offering at least one activity to get the right people for our business and at least one activity to keep and develop our people. 
Clear Assured
Clear Assured is a recognised inclusion standard that helps organisations like Bellway, progress their equality, diversity, and inclusion journey. We are proud to have achieved Bronze status and we are working towards achieving Silver, demonstrating our commitment to equality, diversity, and inclusion.
Payroll Giving
The Payroll Giving Quality Mark is a benchmarking system that recognises when an employer offers the scheme, and signifies those businesses operating exceptional schemes. Bellway has received a Bronze award which is awarded to companies with over 1% of their colleague base donating through Payroll Giving.
HBF 5-star status
We are proud to continue to maintain our 5-star Home Builders Federation status, demonstrating the quality and consistency of our company.
Association of Apprentices
Bellway are delighted to have partnered with the Association of Apprentices, a membership organisation that connects apprentices across the UK via a dedicated social and professional networking platform.
The Careers and Enterprise Company
Bellway holds the Employer Standards trailblazer logo as we are committed to raising the quality of our careers engagement with the education sector and have signed up to use the annual self-assessment tool to ensure that we offer an effective and robust provision in line with Gatsby benchmarks.

Bellway Careers
Build the future with us
Apply now