Our ethos is based on three things: Learn and Grow, Be Yourself and Make an Impact. Your career path is yours to shape here at Bellway. From perfecting your trade, to embracing your uniqueness, you will have the freedom to make your mark in an inclusive company.
Read on for some insight into the programmes we run and 6 tips to building your career with a 5-star housebuilder.
A quick glance at our different entry points:
Work Placements

We operate work placements for people who are thinking about a career in construction, including the Change 100 programme, which is paid summer work placements aimed at removing barriers experienced by disabled people in the workplace, to allow them to achieve their potential.
Graduate and Apprenticeship Programmes
Our graduate and apprenticeship programmes are designed to give you practical training and a solid grounding in what it takes to be a 5-star Bellway team member. We also run women in construction programmes to encourage women to join and progress in the industry.
We are proud that once they join, our team members stay with us for a long time. Read on for 6 tips on how to build your career in construction.
#1 Know your career path
We know that things can change, and it's never too late to start again. But it's also good to have a career path in mind. If you're at the beginning of your career and you're not sure where to start, our work placements or an apprenticeship will allow you to try different disciplines. Once you join us, you will be given plenty of training and development to succeed and the forum to make your ambitions known.
Having an idea of which area of construction you want to get into will ultimately mean that your passion shines through and you will thrive.
Top tip:
Use these questions to consider which area of construction you might like:
Do you like being out and about or office/home-based?
Do you like working autonomously or as part of a team?
Would you like to manage a team?
Are you technically savvy, logically minded or more creative? (Yes, there are creative jobs in construction too!)
"Whether you are at the beginning of your career or you are looking for a change, the housebuilding industry is full of amazing opportunities to suit your skill-set or work preference. For example, if you enjoy maths you may want to explore a career in quantity surveying or finance, or if you have great interpersonal and negotiation skills, a role in land buying or sales could be the perfect career path for you. Alternatively, if you would prefer to work outdoors and you have good project management ability, a career in site management could be the ideal opportunity for you."
Heidi Khoshtaghaza – Group HR Director
#2 Set goals  
We like people to have career goals, and there are plenty of opportunities to keep our construction standards high through innovation and new ways of working. Setting objectives and discussing these with your manager means they can support your career trajectory.
There are also great ways to be recognised within the company, from our annual awards to our training and development programmes, so don't be shy. We'll give you access to the tools to get you from where you are now to where you want to be.
Top tips:
Be ambitious!
Think about the skills to develop to get where you want to be. These could be soft skills that you might need in work situations, as well as the technical skills needed for the role.
Ask for feedback. Most people shy away from asking for feedback in case they don't like what they hear. But constructive criticism and a roadmap to success developed with your team or manager will be one of the quickest ways to access your dream job.
Be persistent and patient. Nothing in life is a straight line. Sometimes, staying in a job a few months longer or taking a different role to learn new skills can be a quicker route to your end goal.
#3 Expand your responsibility
There are always opportunities to take on new and exciting projects here at Bellway. We take our commitment to you very seriously. We will always try to find new challenges to give team members who show willingness. Ask for that extra responsibility; we will learn as much about you as you will about us in your new role.
Top tips:
Think about what you are good at but also what you need to improve.
What responsibility could you take on that would help you improve your skills and also add value to a new project? You learn more by doing than anything else, so go do!
Say yes to opportunities even if they present a challenge and you don't feel that you have 100% of the skills required.
Try to foster a growth mindset – most people's careers are not linear so embrace the possibility of a 'squiggly' career and consider sideways moves to gain valuable experience.
At Bellway we don't advocate one annual career conversation but encourage more frequent 1:1s to support you as your career develops.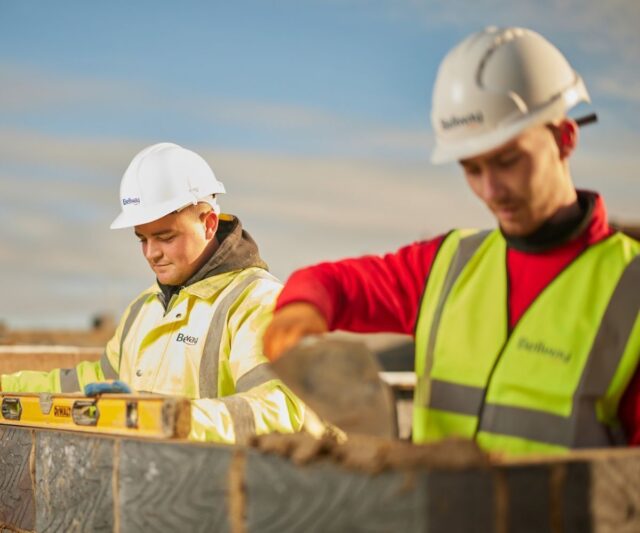 #4 Continuous learning
We have created a culture for success at Bellway which includes continuous learning and development. Our most successful people know that keeping their knowledge current and learning new skills is the quickest way to improve our business and boost their career.
Bellway wouldn't exist without the talent and commitment of our colleagues. We invest in our people to ensure that they have the training and ongoing development necessary to develop their careers and deliver work they can be proud of.
The range of learning opportunities we offer is as diverse as our staff population. Whether it is a fully funded qualification, short course or webinar, we recognise one size most definitely does not fit all.
#5 Coaching and mentoring
As one of the biggest housebuilders in the UK, we have access to some of the smartest minds, the best technology and some of the best practices in house building. These are all at your disposal as you progress. Our people are ready to coach you into that next role; all you have to do is ask. It's great for their career, and it will help you build your profile within the company while opening up opportunities for new roles, projects or ways of working.
Have a skill you would like to share? Then get involved in mentoring someone. Ensuring our team members feel supported is at the top of our agenda; you never know, you could inspire the next generation of construction superstars!
"A mentor accelerated my personal and professional development and provided an open forum for me to express any concerns I encountered, because I was new to the construction sector. I learned a variety of invaluable skills from my mentors and chose to become a mentor myself to help other people in the same situation."
Nicole Waggitt – Group HR Assistant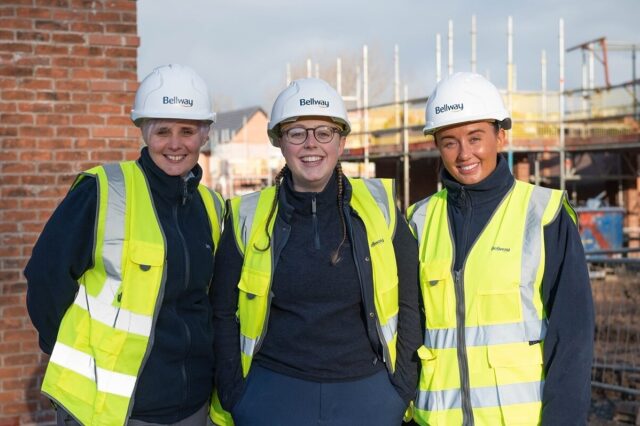 #6 Network
If you follow the points above, you will already be on your way to building an enviable network. We are proud to have a culture of reward and recognition, so the opportunities to be seen and heard are second-to-none. Here are some top tips on building your network.
Top tips:
Get involved with as many projects as you can. Show willingness and a desire to learn a wide range of skills.
Ask for advice. Our team are always happy to help you find answers.
Embrace new ways of working. Helping set up new projects or communicating the benefits will position you as someone who is future-forward.
Be yourself! We embrace individuality, and being yourself will build trust with your peers and show them who you are personally and professionally.
We practice what we preach here. We were named as one of the Apprenticeships Top 100 Employers in 2022. We are also a Building Mental Health organisation, which is a commitment to reducing the stigma around mental health within the industry.
As a Committed Disability Confident employer, we actively seek to make the most of the talents that disabled people can bring to our workplace. We are members of The 5% Club, which is our commitment to building shared prosperity across the UK by driving 'earn and learn' skills for apprentices, graduates and trainees.
If you would like to find out more about our graduate or apprenticeship schemes, read interviews from employees across Bellway, see our accolades and commitment to inclusion and diversity or simply seek out your next role, please visit https://www.bellwaycareers.co.....
Bellway Careers
Build the future with us
Apply now